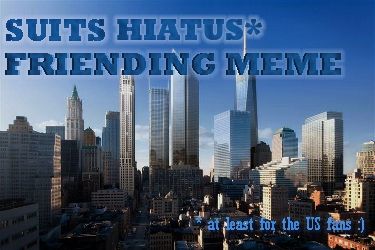 Awesome graphic created by the awesome
casness

Welcome to the latest Suits Friending Meme! Since the UK network Dave has begun showing season 1, we decided to make a new friending meme to help welcome new fans to the fandom! Who doesn't like new friends? Also, it gives us an opportunity to have more people to discuss Suits with when season 2 starts airing in June here in the states!

Here you will find the coding for the actual meme - Copy/paste in a new comment please!


And for those of you who feel like pimping this elsewhere.. here is the code needed to do just that! :)


Have fun everyone!